Requirements
There are 3 parts needed for the Teams Integration to work.
PABX running 6.5.0 or later
Serials DB Teams Phones assignment (configured by IPCortex)
Call2Teams account (configured by IPCortex)
PABX Configuration
Once the PABX is running 6.5.0 or later a licence request will need to be performed on the PABX (if the auto refresh hasn't already taken place). It will then show how many 'Teams phones' are available under pabx.domain.com/getlicence.whtm as below: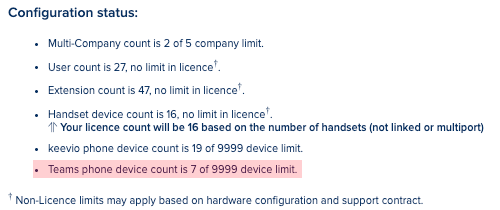 To then assign them to a user, just go to Company / PABX > Users and edit the user that you want to assign the licence to and enable it below the 'Access rights' section

PABX Firewall Rules
The Microsoft Teams integration is based off of the same way we connect any TLS Softphone, so the same firewall rules will apply here.
TCP 5061 inbound to the PABX (To be locked down to the SBC's, then these are found under the Call2Teams setup).
UDP 10000-20000 for the SRTP traffic.
Call2Teams Setup
Please see Call2Teams / Teams Setup guides via Portal.